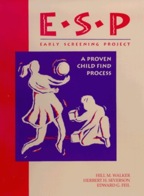 For questions or comments, please email Ed Feil at edf@ori.org.
PAPERS PUBLISHED ON THE EARLY SCREENING PROJECT

Feil, E. G., Walker, H. M., Severson, H. H., & Ball, A. (2000). Proactive screening for emotional/behavioral concerns in Head Start preschools: Promising practices and challenges in applied research. Behavior Disorders, 26(1), 13-25.

Feil, E. G., Severson, H. H., & Walker, H. M. (1998).Screening for emotional and behavioral delays:The Early Screening Project. Journal of Early Intervention, 21(3), 252-266.

Yoshikawa & Knitzer (1997) Lessons from the field: Head Start Mental Health Strategies to Meet Changing NeedsNational Center for Children in Poverty, Chapter 5, pp 72-75.

Feil, E. G., Walker, H. M., & Severson, H. H. (1995). The Early Screening Project for young children with behavior problems: Research and development of the early screening project. Journal of Emotional and Behavioral Disorders, 3(4), 194-202.

Feil, E.G. & Becker, W. C. (1993). Investigation of a multiple-gated screening system for preschool behavior problems. Behavioral Disorders, 19(1), 44-53.